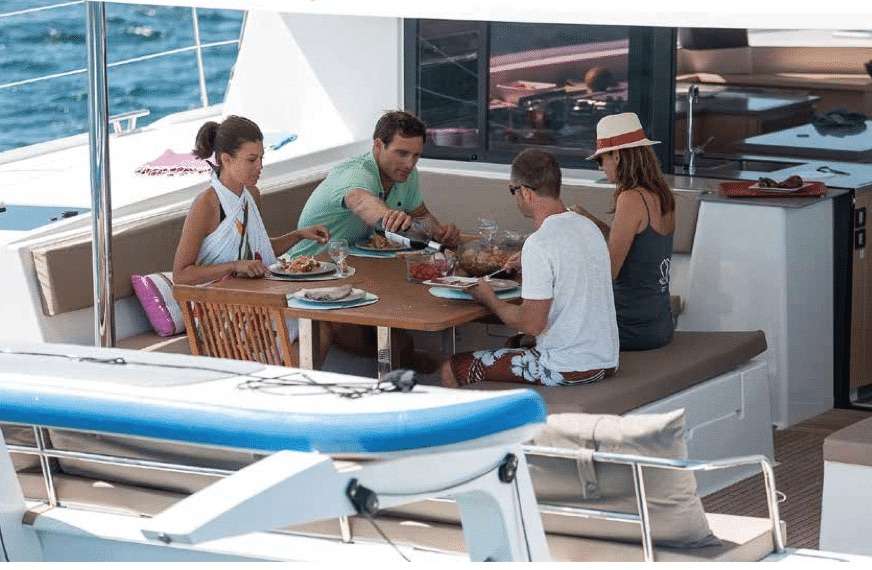 When people call us to book their Caribbean Sailing Vacation, most of them do not have a good understanding of how much a yacht vacation really cost. However, most of them do have a budget in mind for what they are willing to spend for their Caribbean sailing holiday.
Once we understand their budget, it is our job to maximize their budget, and to deliver the best sailboat trip possible.
The yachts that deliver yacht holidays fall into different size categories. And, within each size category, there are different types of sailing tours, like per cabin bookings, captain only bookings where you book the entire yacht, and all-inclusive vacations where you also book the entire yacht for your yacht charter vacation. Below, for each budget range, I'm going to try to identify the best type of yacht, within each size category, to deliver the best Caribbean sailing holiday. For each of these, prices are based on seven night yacht vacations.
If you are traveling alone, or as a couple and your budget is:
$2,000 to $3,000 each – the best yacht and value in this price range would be to book a cabin on a Sonoa 47 from Fountain Pajot. You will most likely have 3 other couples on board with you and for just over $2,000 per person you can do an all-inclusive 7 night sailing vacation. The Sonoa 47 is a new model of charter yacht, so your boat will be less than 2 years old. They have a modern and bright look and feel and a second level fly bridge to spread out on. For the money, for this type of traveler, you cant beat this model of charter yacht for a sailing holiday.
$5,000 to $6,000 each – the best charter yacht in this price range is, without a doubt, the Fountain Pajot Helia 44. For under $12,000, two people can rent the entire yacht for a 7 night Caribbean sailing vacation that is all-inclusive. The helia 44 charter yachts have a "honeymoon" suite that takes up ½ of the charter yacht. Like the Sonoa 47, this is a very new model of boat, so your sailing holiday will be on a boat less than 3 years old. The Helia 44 also has a fly bridget, and, a bright and airy look and feel. These boats are fantastic choices for your Caribbean sailing adventure.
If you are bringing four to six people on your Caribbean sailing holiday, and your budget is:
$2,000 per person, then for sure, the best choices for your yacht holiday is a Leopard 46 or Lagoon 45. These boats sleep up to six people easily and have been popular choices since their introduction into the yacht charter vacation industry back in 2008. Six people can enjoy a 7 night all-inclusive sailing holiday for under $12,000 on either of these models, making them the perfect choice.
$2,500 to $3,000 per person… with this budget, for six people, the ideal choice is the new Fountain Pajot Elba 45. These amazing charter yachts have been the "boat of the year" since introduced into the yacht vacation industry last year. Your boat will be brand new, or less than one year old and will feature an amazing fly bridge. Six guest can enjoy an all-inclusive, 7 night Caribbean sailing vacation for about $15,000 on one of these amazing boats.
If you are traveling with 8 to 10 people, and your budget is:
$2,500 to $3,000 per person… with this budget, the perfect yacht holiday should be on a Fountain Pajot Saba 50. These elegant charter yachts are roomy enough to accommodate 8 to 10 people, depending on the layout and are perfect for larger groups that want to enjoy a Caribbean sailing holiday. They have an oversized flybridge to spread out, and have a modern, contemporary feel. Our clients that choose saba 50s for their sailboat trip typically spend between $18,000 and $20,000 for a seven night sailing holiday, making the saba 50 an excellent value.
$3,500 to $4,000 per person…. With this budget, 8 people should probably choose a Fountain Pajot Inpanema 58. These large, elegant sailing yachts are ideal for high end clients who want to really spread out and relax on their Caribbean sailing holiday. The Inpanema 58 has huge living spaces, including an oversized flybridge. Our clients who book the Inpanema 58 for their sailboat trip typically spend just over $3,500 per person, or about $28,000 for an all-inclusive, 7 night Caribbean sailing vacation.
We work hard to have excellent options for every budget. We are careful to only allow the very best options into our fleet, so that every client is happy and satisfied. I often here "I could never afford that" when I tell people what I do for a living… but I think with these charter yacht options, and at these incredible prices, almost anyone can enjoy a Caribbean sailing adventure with their family and friends, or even alone!
Contact Us For Details