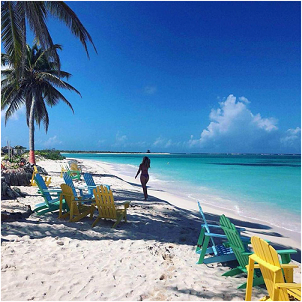 On yacht vacations in the Virgin Islands, most of the trip is all about the boat. And all about the crew. But when you get to an island at the end of a day's sail, the trip becomes all about the beaches. Below is iyachtclub's top 10 beaches to visit on your next Caribbean sailing charter. Our top 10 list includes beaches from the Spanish Virgin Islands, U S Virgin Islands and British Virgin Islands. So, in no particular order, but from west to east, here is our top 10 list for Caribbean Sailing Vacation:
1 Flamingo Beach, Culebra. On a sailing tour, the entrance here is easy. This beach is located on the north side of Culebra and is famous for its pink sand and amazing beach bars. Oh, and there is an abandoned army tank on the beach… you don't see that every day.
2 Playa Tortuga (Turtle beach) Little Culebrita (little snake island). You will find yourself alone on this beach every day of the week except the weekends. It is famous for its sea turtles, hense the name and its abandoned light house, a short walk away. It is on the north side of the island and is one of my personal favorite places in the entire Caribbean. A short walk to the north east corner of the beach takes you to a massive natural jacuzzi.
1. Bahia Salinas, Viegues. This small sweep of tan sand is located on the north side of viegues on the eastern tip. It is isolated and actually takes some skill to enter. In all my visits, I've never seen another boat or person here. You can snorkel around abandoned military equipment as this used to be a practice bombing range. But, beside the pure beauty and isolation, the number one reason to come here is the star fish. There are typically so many here, it is actually hard to walk!
2. Honeymoon Beach, Water Island. No yacht charter vacation can be complete without a stop at this short, but well protected and amazing beach. Honeymoon is a west facing beach, so come for sun set, and if you are lucky enough to come on a Monday, stick around for moving night on the beach, facilitated by a sheet tied between two palm trees. This jewel of a beach has two great beach bars, and the calmest water of any beach on the list.
3. Little Cinnamon Beach, St. John. Almost everyone knows about Cinnamon Bay beach on St. John. Cinnamon Bay has always been a St. John favorite and was made popular by a Kenny Chesney Song. But very few people know that just a short hike to the west takes you to the best St. John beach of them all, Little Cinnamon. This small slice of heaven is pure romance.
4. Zihuatanejo, St. Croix Part of the Sandy Point National Wildlife Refuge, Zihuatanejo is the second longest beach on the list. This "can't miss beach" is actually the furthest western point of the United States and was made famous by the final scene in the movie classic, Shawshank Redemption. This is literally miles, and miles of untouched soft, white sand.
5. White Bay, Jost Van Dyke No list of beaches in the Virgin Islands would be complete without White Bay. This short stretch of white sand is filled with fun beach bars and fun people. Unlike the other beaches on the list, this is a party beach for sure, but early in the morning, and late in the afternoon, when are of the pain killers are gone, this is a stunningly beautiful combination of white sand and bath clear water.
6. Smuggler's Cove, Tortola
On Caribbean sailing charters, when approaching Tortola from the west, Smugglers Cove can be found just north of the western most point of the island. There is nothing here but white sand, green trees and blue water, and that is hard to find on busy, busy Tortola. That is why I love it! Years ago, before Hurricane Irma, two lovely ladies, Patritia and Ester use to setup a card table with a blender on it each day to create the beach's only bar. What a fantastic place to spend an afternoon!
7. Savannah Bay, Virgin Gorda Difficult to get to, but worth the effort, is Savannah Bay beach on Virgin Gorga. This beach is also west facing, and, in my opinion, looking across the shallow blue water, then over the reefs protecting it, this beach offers the best sunsets in the Virgin Islands.
8. Anegada Beach. Well, number 10 is Anegada… the whole island of Anegada. There is no beach named "anegada beach" and people will argue that there are lots of beaches on Anegada. But I say that the entire island is wrapped by one long, amazing beach. My wife and I once walked for 5 hours on the beach on Anegada without seeing another human. We were happy to end up at Cow Wreck Bar, because we were thirsty, but this is the only place in the world that I've found so far, where you can walk so long, on isolated white beaches!
On your next Caribbean sailing holiday, I'd recommend challenging yourself, or your captain, to the iyachtclub top 10 beach challenge. See if you can visit all 10 beaches in one sailing holiday. And, along the way, let me know if you find any great ones that I have not found!
Contact Us For Details