The Caribbean's Hidden Treasure
Sail – St. Martin, Anguilla, St. Barths
Not too long ago St. Martin was the sailing charter capital of the world! Recent history changed that, and the Virgin Islands became the place to go. The world of mega yachts and superyachts have discovered the charm and variety that St. Martin has to offer and it remains their playground of choice. We believe that it's past time for charter guests on sailing yachts to rediscover all that this amazing charter destination has to offer.
The cruising area of St. Martin, Anguilla, and St. Barths islands are part Dutch, part French, and part British. Because of the uniqueness of this sailing destination, we highly recommend our guests to try a half-board or our local fare option so you can experience the culture of their fine cuisine! If you love wine, cheese, fancy desserts, or fluffy pastries – this is home to the greatest delicacies in the world. The supply of high-end ingredients also allows our chefs to provision for the best charter food during your trip and really show off their skills.
Not only does this area of the Caribbean have decadent food, they have multiple beach bars and secret coves to explore while you're there. If you're a beachcomber and love to mingle or if you tend to like quiet coves – there's a spot for everyone to enjoy.
Day 1 – Arrive and Explore the Quaint Town of Marigot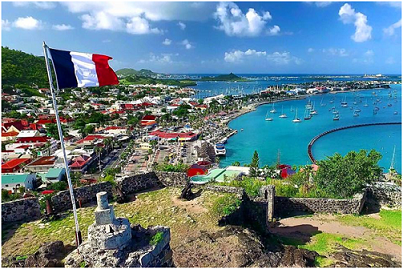 Your beautiful yacht serenely awaits your arrival in the French side capital of St. Martin – Marigot. After getting settled on your yacht, your Caribbean sailing party can wander the delightful streets of Marigot. Marigot is a quaint town dotted with multiple Paris style boutiques and delicious French cuisine.
Hike to the 18th century Fort Louis which is situated on top of a hill in Marigot with views stretching as far as Anguilla island 15 miles away.
If you have time go to Tijon to make your own custom cologne and perfume – it's a must! Also, make a stop at Bacchus Bakery for fresh croissants and the best sweets in the Caribbean.
Day 2 – Your Pick of Snorkeling, Paddleboarding, or Kayaking in Anguilla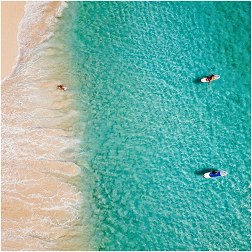 Day 2 of your Caribbean sailing vacation, you'll sail to the British island of Anguilla and the stunning Crocus Bay. You and your group can enjoy snorkeling and cliff jumping in this pristine spot or a casual paddleboard or kayak through the blue waters. Your yacht provides snorkel gear, kayaks, and paddleboards so you have quick and easy access to start enjoying the Caribbean sea!
Another short ride away, you can find Shoal Bay, the world famous white sand beach that is regarded as a top 5 beach in the world! This beach will have you feeling relaxed and in vacation mode in no time! Nearby, the town of Sandy Ground has many great beachside restaurants and casual Caribbean nightlife.
Day 3 – Banky Banks: Savor the Tranquillity on Anguilla's Surrounding Islets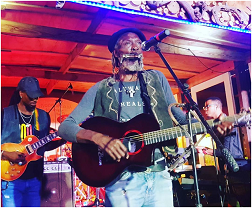 On Day 3, you'll set sail for one of the uninhabited islands surrounding Anguilla. Dog, Prickly Pear, Scrub Island, and Sandy Island are all beautiful island paradises where there's no lack of sun, sand, or water activities.
Sandy island is home to what might be the perfect Caribbean beach bars on it's solitary island with a 360 degree view of turquoise waters. Prickly Pear has two amazing little rum joints for you to choose from.
After the beach bars, head to Banky Banks. Banky Banks is to the Leeward Islands as what Foxy's is to the BVI's. This amazing character sits in his funky treehouse bar playing his original tunes and entertaining his guests.
Anguilla hosts seven wreck dives around the island. If you're a scuba diver wanting to venture into some of these wrecks this is your spot to find a myriad of tropical sea fish, sea fans, and coral!
Day 4 – Snorkel with Turtles in St. Barts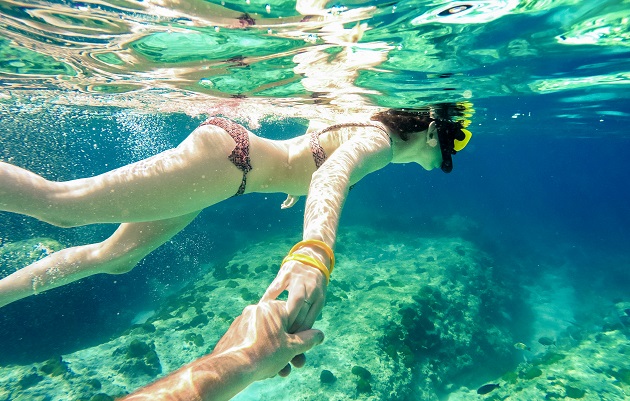 Leave early on Day 4 and arrive in Gustavia, St. Barts three hours later. The gorgeous French colonial town is the jewel of this part of the Caribbean line with red roof houses and some of the world's largest mega yachts.
With amazing restaurants and high-end duty-free shops, it has it all. You can explore the town or even jump on a scooter for a true island adventure. St. Barths is really a tale of two islands – you can choose to spend your day on isolated beaches and natural pools where few people go or party with the posh beachgoers on Nikki beach – coined the sexiest place on earth.
Your yacht will cruise the boat around to drop anchor at Anse de Colombier. This horseshoe-shaped bay provides you with one of the best snorkeling spots in St. Barts. Its steep hills which overlook the Caribbean Sea also host scenic hiking trails with views stretching all the way to Ile Fourche.
Day 5 – Escape light pollution and See the Milky Way Bright as Day on Ile Fourche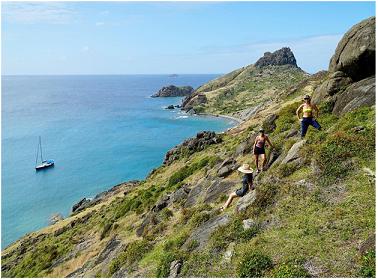 Day 5 of your Caribbean sailing vacation, you'll set sail to the nearby island of Ile Fourchue. This uninhabited island has some of the Caribbean's best snorkeling. Part of St. Barth's marine reserve, this island's water houses an abundance of sharks, barracudas, stingrays, sea turtles, and lobster galore. Take a shot at navigating your way to the rock buttes of Ile Fourchue if you're looking to get in a little day hike. You'll reach the top for the panoramic view of St. Barths and St. Martin.
Watch as the Milky Way starts to appear right before your eyes this evening. Due to this island's zero light pollution, the starry sky of Ile Fourche will give you another level of Caribbean tranquility.
Day 6 – Enjoy Local Cuisine and the Pristine Waters in Orient Bay
A couple hours sail brings you back to St. Martin. You'll anchor in the windward side, off of Orient Bay. This 2-mile long white velvet beach hosts multiple beach clubs, watersports, kiteboarding, jet skiing, and more. Pop into the open-air eateries located near Orient for some delicious French cuisine.
Located in the heart of the marine park nearby, you can visit the little sandy island of Pinel, an alternate option for a day on the beach and a perfect lunch. Another great place to snorkel, Pinel offers a variety of marine life in the area, and this protected bay is great for a kayak and paddleboard! This island is a local favorite and one of St. Martin's best kept secrets. They throw the best boat/beach parties on the weekends, and on the weekdays it's typically quiet if you want a little more down time.
Day 7 – Snorkel, Cocktails, Tapas, Repeat in the Gourmet Capital of the Caribbean: Grand Case
After breakfast take a short sail to Tintamarre. This flat island was used as a secret submarine base in World War II. The island is your host for a perfect beach day and mud cliffs that provide a natural spa – when mixed with water it leaves your skin feeling soft as a baby!
Alternatively head off to Loterie Farm. Located in a rainforest, this secret hide-away oasis offers private cabanas, cascading waterfalls, private pools and even zip lines for those bolder souls.
Either way, later in the day, you'll continue down St. Martin's seductive northern coast for Grand Case. You can enjoy a snorkel at Creole Rock where you might see the elusive and beautiful Eagle Ray! End the day with one of the most idyllic places for a sunset stroll and enjoy one of Grand Case's famous eateries on the beach. Grand Case is the gourmet capital of the Caribbean with multiple Michelen Star restaurants to choose from.
Rainbow Bar is St. Martin's version of Nikki beach in St. Barths, and it's the best beach bar here by far. This is where yachties and locals both hang out to bronze up on vacation and drink the best French Rose.
Day 8 – Get Your Last Caribbean Fix and Souvenirs & Hope for a Plane Delay!
Wake up to your last day with a delicious breakfast in Grand Case. We'll then sail the final hour back to Marigot and prepare for your departure.
Don't forget to stop at Bacchus Bakery on your way out to pick up your croissants and fresh bread for the plane ride home – you'll be dreaming about them until your next charter here!
Since Kenny Chesney made the BVI famous and popular with his songs about those islands, people have been flooding to the BVI and US Virgin Islands. And, if you've chartered in the virgin islands before (and even if you have not), St Martin and her surrounding islands may very well be the best charter destination in the Caribbean. The anchorages are less crowded, isolated beaches can still be found, and the food is out of this world. Add to all of this, the opportunity for amazing nightlife and extraordinary beach parties, and it is easy to see why we love this area as a superb choice for your next charter.